Mr Anderson goes to Stockholm
Dec 18, 2017 Neo Mr Anderson Norwegian Stena Lines
A while ago I fell in love with Hanna, a wonderful Swedish lady. After a while she and her cat Neo (we call him "Mr Anderson") decided to come and stay with me in London for a while. Mr Anderson has his pet passport and appropriate immunisations so he's allowed to travel within Europe and to the UK. For that trip in July of 2017 they both flew into London Heathrow. We didn't much like that experience:
We had to go via one of a shortlist of acceptable pet transport companies, all but one of whom were on their summer vacation
It was very expensive (nearly £2000)
It meant a very long day for the kitty because:

He had to be dropped off several hours before the flight
He couldn't be picked up until several hours after the flight
The flight itself is about 2.5 hours from ARN to LHR

We were required to have him checked out by a vet the day before he travelled
For our return in December of 2017 we decided to look at other options. We finally decided to take surface transport to Schippol airport outside Amsterdam and fly him from there to Arlanda airport outside Stockholm. He gets a much longer trip, but by much less stressful forms of transport, and it costs a lot less; the flight is just £70 for him and even with the ferry and various trains it's a lot less.
Researching this online there wasn't a tonne of information on what to expect, so here's how it panned out for us.
Wimbledon to Liverpool Street
A walk from the flat to Wimbledon Station
The mainline commuter service from Wimbledon Station to Waterloo Station
The Bakerloo line to Oxford Street
The Central Line to Liverpool Street Station
I had been renting, so with the flat empty of furniture we cleared up on the morning of our departure, and took Mr Anderson in his cat carrier to the local train station in Wimbledon, a suburb of west London. Five minutes walk. Easy peasy (or would be if we didn't have heavy bags with us as well).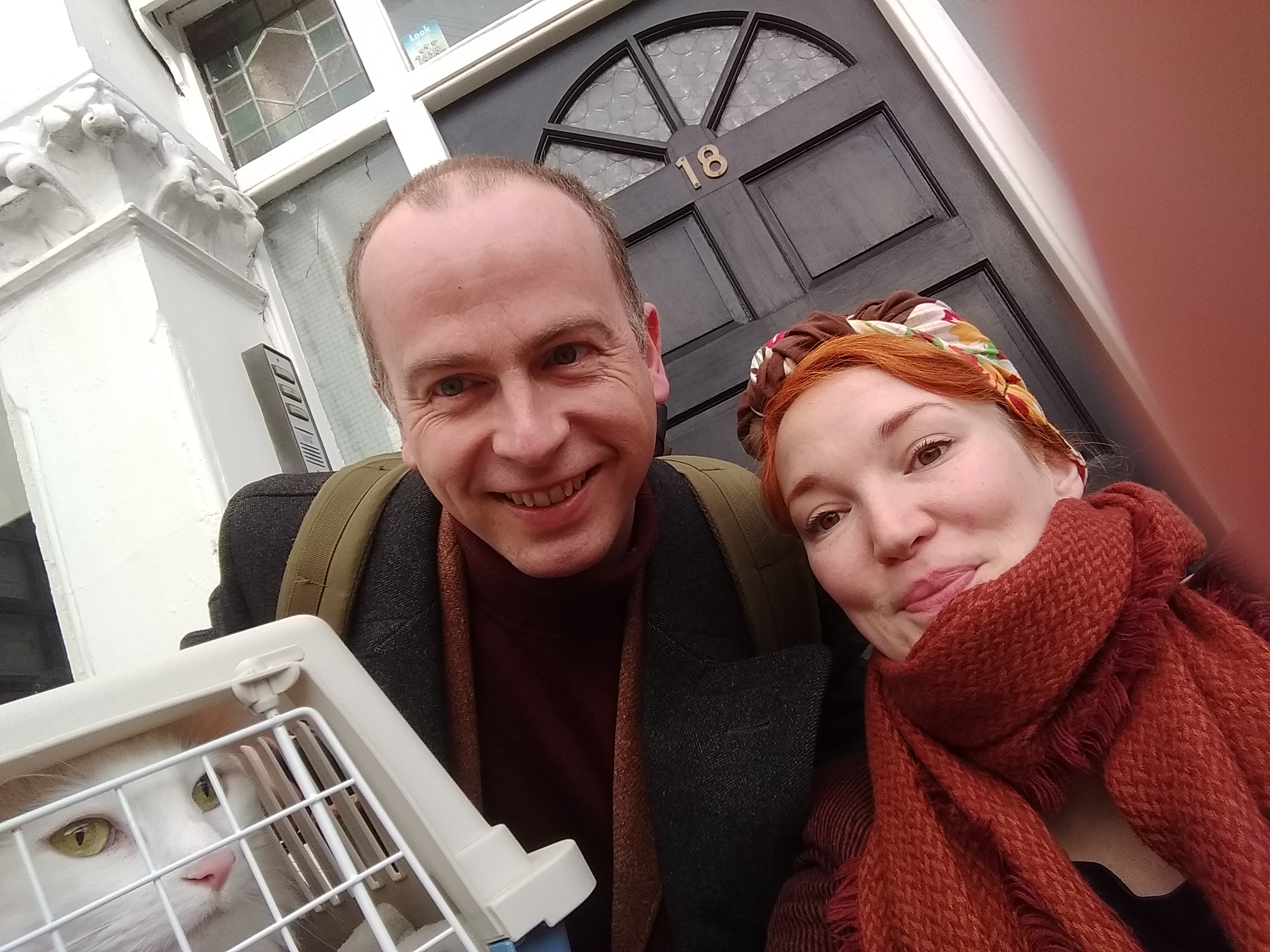 From Wimbledon mainline station we took the commuter service into the terminus: London Waterloo. This was about 20 minutes travel. The commuter trains sway quite a bit as they cross points and so on, so we got a few grumpy squeaks from Mr Anderson, but no real complaints.
From London Waterloo we took an escalator down into the tube network (Mr A doesn't like escalators it turns out), and then some steps down to the Bakerloo line platform. Hauling a cat carrier strapped to a 20Kg suitcase down flights of stairs is not something I would wish to do for a living. Mr A bore it well, standing up to watch our progress and no mews of protest.
Bakerloo is one of the old deep lines. It sways a lot, and makes a tremendous amount of noise. Mr A is deaf so noise is not a problem. Swaying, however, he dislikes. He voiced his complaints at what I think of as level 2: "I do not like this, make it stop." Fortunately it's a fairly quick journey from Waterloo to Oxford Circus where we changed.
Several flights of steps, and no fun, but before long we were on the Central Line platform giving him a breather. On the Central Line it's swaying less, but Mr Anderson was not in a good mood and complained (still level 2) all the way there. Right next to two (fortunately amused) passengers.
At Liverpool Street it's escalators (level 1, mild annoyance) to the ticket hall, but then a long flight of stairs up to the main concourse. We had a good 20 minutes before our next train was due, so we waited on the concourse and allowed Mr A to calm down (which he did very quickly).
Liverpool Street to Harwich Town
The intercity to Manningtree
A local service to Harwich Town Station
A walk to The Alma Inn
As soon as the intercity came in we rolled Mr Anderson over in his cat carrier and boarded. The train was fairly full, so we decided to place his carrier on the floor in the inter-carriage vestibule, and sit with him. Good call; his carrier sways less when it's on the floor, and we're able to put a hand in to calm him down.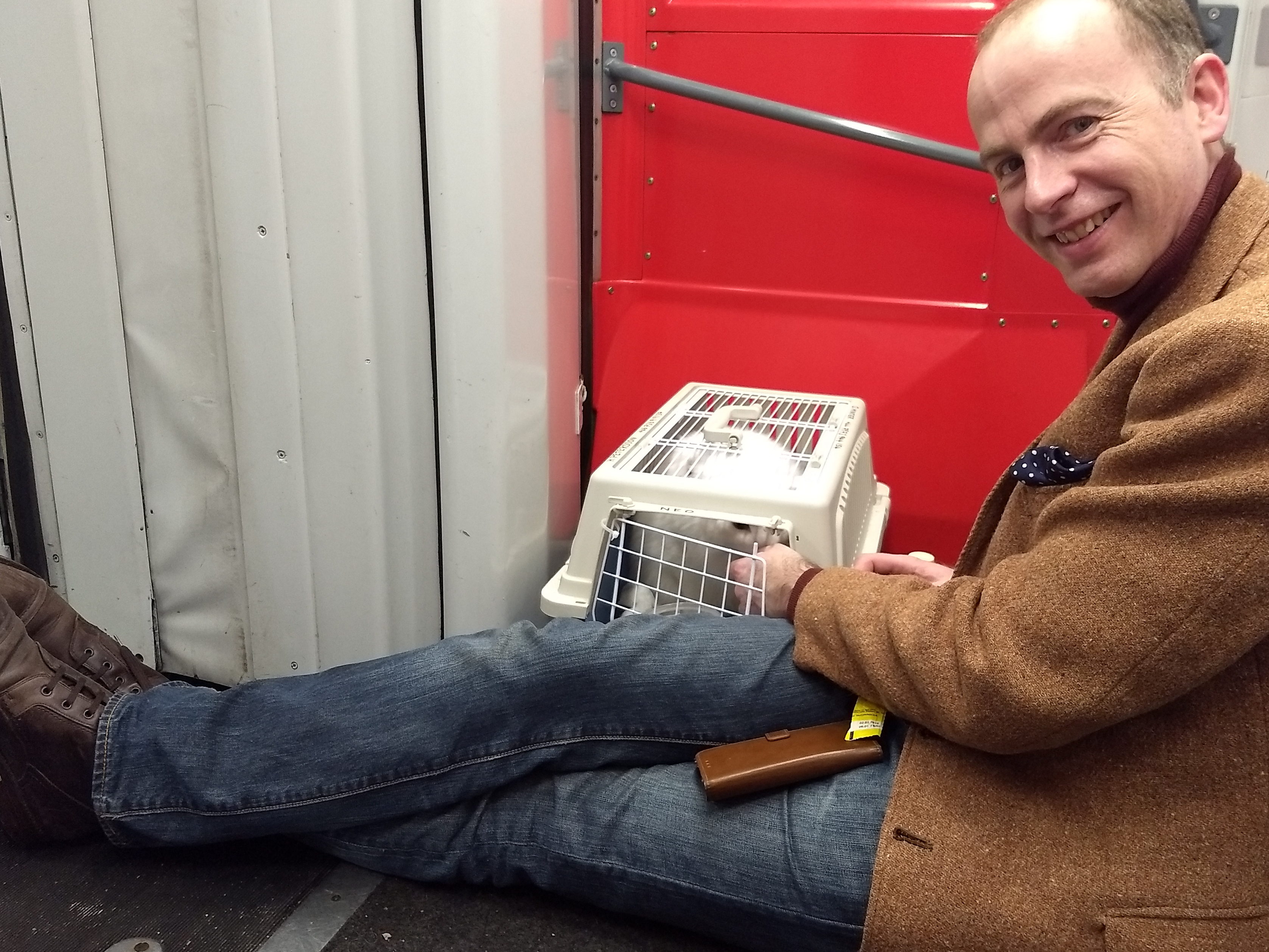 As an aside, Mr Anderson is a very placid cat and a very sociable cat. He came into Hanna's posession when his previous owners had a child and the lack of attention was distressing him. When we're around the flat he always sites himself somewhere he can see both of us, and if there isn't such a place because we're in different rooms he shouts at us! At night he sleeps on my feet, and he prefers to sit on your hand if you're petting him. A hand in his cage when he was unhappy seemed to calm him down fairly reliably on this trip (I don't think that would be the case for some cats).
Although he muttered at us a bit (level 0.5, is this really the best we can do?) as the train jolted on departure, it soon settled down and so did he. We even got a purr or two. Mr Anderson prefers to travel by intercity (so do I as it happens).
Our change was at Manningtree, the second stop on our Norwich bound service. We hopped off, changed platforms (Hallelujah, there's a lift at Manningtree) and had a ten minute wait for the "Sprinter" stopping service to Harwich Town - passing Harwich International on our way, which is where we would need to be in the morning. On the Sprinter we placed him on the floor again and we sat on the seats. As it was a 30 minute journey and a very quiet service we decided to take him out of the basket for a bit. Mr Anderson is happy to be in a harness (he's so fluffy we don't think he even notices it) and he's used to being taken for a walk on a leash. He seemed perfectly happy to sit on our coats on a train seat and watch the other passengers as they got on and off at the intervening stations. No complaints from him on this part of the journey (the ride was fairly smooth).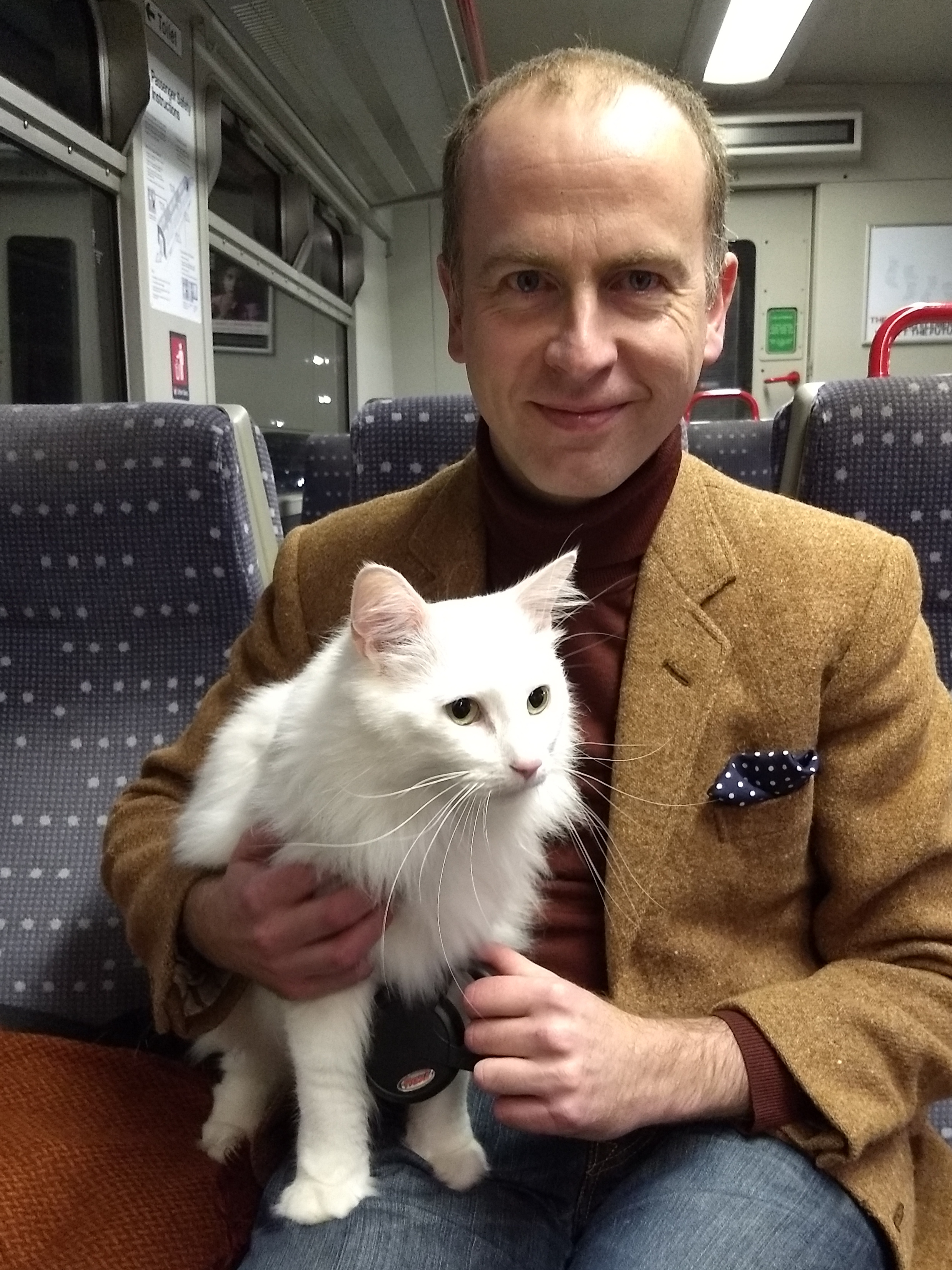 At Harwich Town we returned him to his carrier - he's always willing to go back in with a little encouragement, and generally comes out of his own accord. We always have it open around the house, so it's hard to be sure if it's that or just his general breezy character that makes him so chilled about it. Anyway, we loaded him in, strapped it back to the top of the wheely bag and pushed him over to The Alma Inn, our pet-friendly hotel for the night. Aside from complaints (level 1, sheesh be more careful) when the bag rocked on a pothole or cobblestone he took this part well.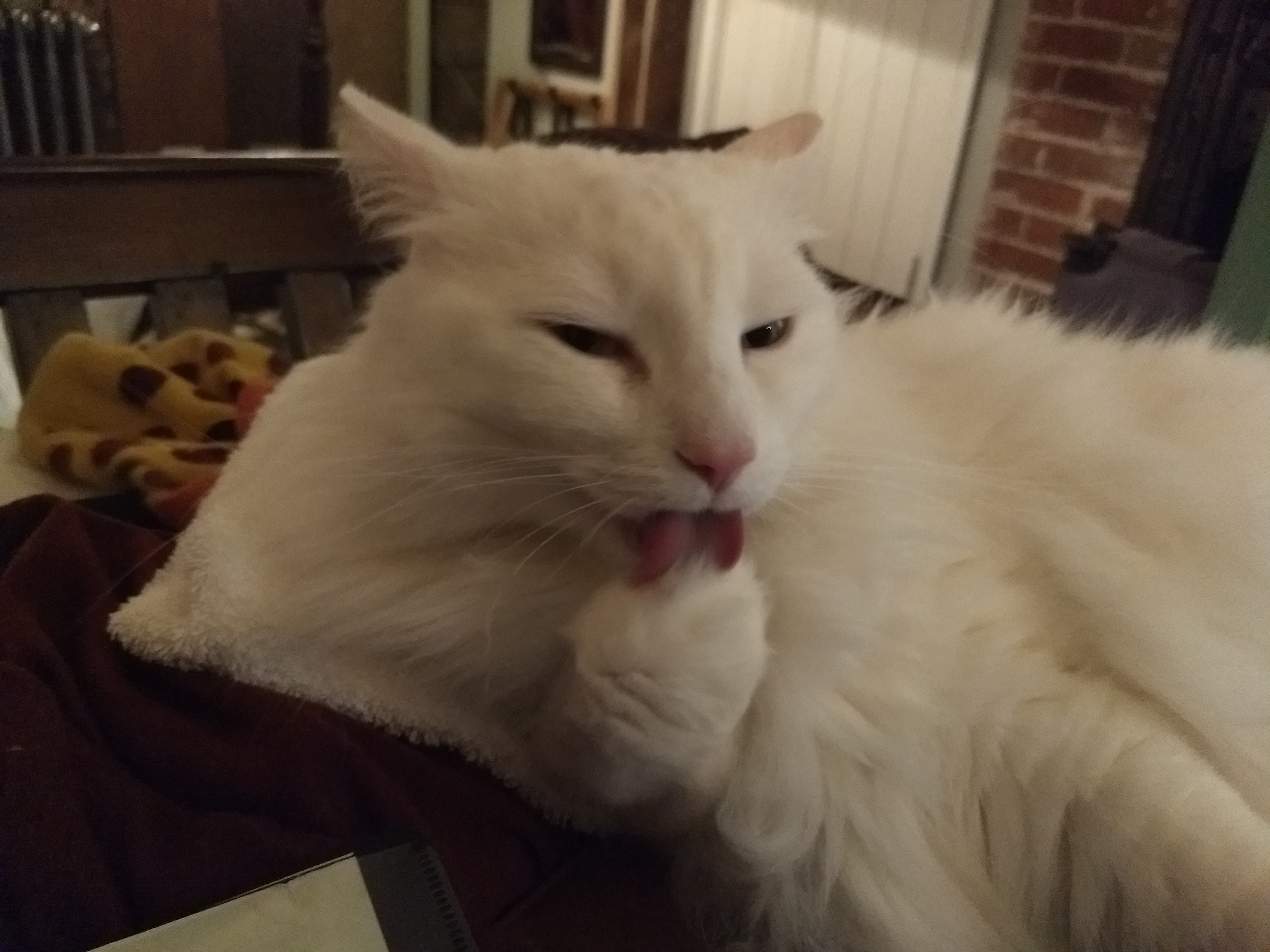 We and Mr Anderson were greeted with great hospitality at the Alma. They showed us to our very comfortable room, and we let him out of the carrier. He checked the room cautiously for any lurking lions, tigers, or bears, decided it was all clear, had a short nap in the shower, and then hopped up onto the bed. He was so chilled out that we left him there while we grabbed a (delicious) pub supper, and very regretfully declined breakfast arrangements for the morning as we had an early start planned.
Day 1 a success. Mr Anderson calm and napping on the hotel duvet keeping my feet warm as is his (and my) delight.
Harwich Town to Hook of Holland
An early walk to Harwich Town Station
Taking the ferry
Day 2 was the longer day with tighter schedules, largely due to the slow ferry trip up from the UK to the continent.
We got up early, retraced our steps to Harwich Town station, waited for our train, and took it over to the ferry port station (Harwich International). No complaints from Mr Anderson but it was only two stops. Happily there's a lift up from the platform at Harwich International to the bridge, and the bridge leads directly into the departure lounge for the ferry. Here we could get a cup of coffee, and let Mr Anderson have a bit of a walk around on the leash while we waited.
It was clearly to be a very quiet crossing as only a handful of people were in the lounge. Pretty much everyone there said hello and admired Mr Anderson as we walked him around. Staff were helpful when we asked how things would work.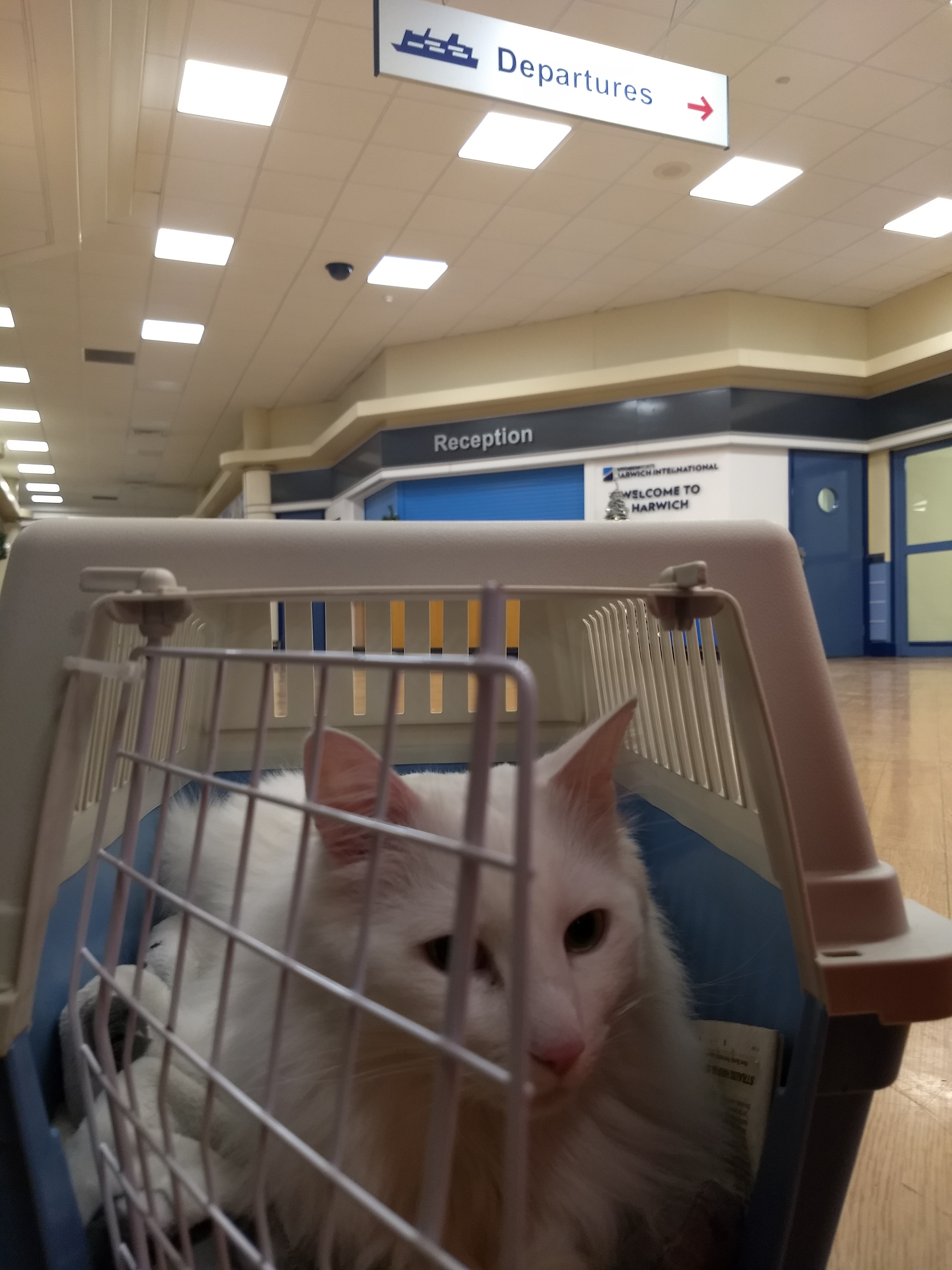 Once the gate opened, we walked over to the security desk. Here we placed Mr Anderson on a desk as we put ourselves through the metal detector and our other luggage through the x-ray machine. Then we took everything over to the checkin desk. Here we presented passports, Mr Anderson's pet passport, checked our heavier bags in, and collected our boarding passes. This was all very quick and simple - I don't know if it would have been as easy in a busy season. We were told to walk up the passage to the ship where we should speak to the service desk - from there we were taken down to the kennel.
The kennel is a room on a lower deck equipped with various cages - larger floor ones for large dogs, and higher smaller ones for smaller dogs and for cats. Quilts are provided for bedding, litter trays are provided. There's a source of water and a sink, paper towels, and so on. I forgot to get a picture of a room as a whole, but I took one of Mr Anderson in his cage. Despite the sad demeanour in the picture he seemed perfectly happy.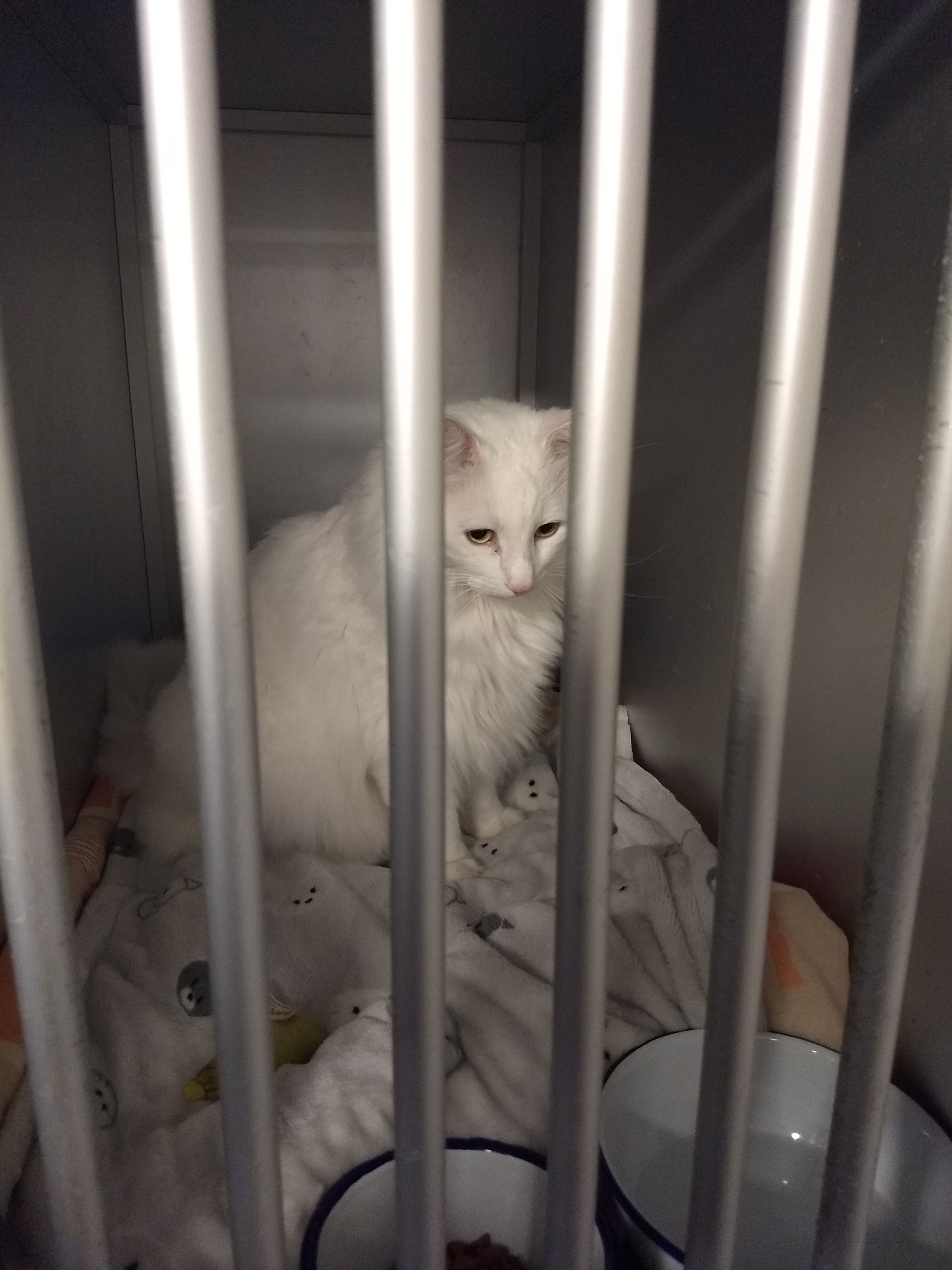 With room for his litter tray (we put this at the back of the cage) and food (at the front), in a cool but not cold room and with a blanket we were fairly happy to leave him for a while. The staff member who showed us the kennel told us that they try to keep cats and dogs on opposite sides of the kennel when possible, but in fact no other animals were in his kennel (there are two, each with multiple cages) for this journey. We were also told that we were allowed to visit the kennel as and when we wanted to on the journey. The kennel was covered by CCTV cameras and had we taken a cabin we would have been able to keep an eye on Mr Anderson on the in-cabin TV. We were travelling on Stena Lines (the only option for foot passengers wanting to take animals on this or a similar route), and while things were fine on the day there was very little information on their website about all this.
After twenty minutes or so we left Mr Anderson in his cage to settle down and went upstairs. We were travelling on the Britannia, and had booked entry to the lounge (free drinks, nibbles, and comfier chairs). Worth it for a long trip if the ship was crowded, but as it was very quiet we might as well not have bothered. Cheap enough that we didn't mind the extra expense, though, and as it's a seven hour trip (effectively eight due to the hour difference between the UK and The Netherlands) it was a reasonable precaution. Once the ship got under way we grabbed breakfast, then after an hour or so had passed we went down to check on Mr Anderson. He was asleep. He did wake up fairly quickly (he must have been somewhat alert - being deaf he can't have heard us come in) but he was clearly reasonably happy. We petted him a bit, checked his litter (unused), and gave him a cat treat. In general we assume that if he'll eat a cat treat he can't be too distressed. We got a few purrs out of him, so after a while we closed the cage up and decided it was best to leave him to himself for the rest of the voyage.
During the voyage I was able to buy rail tickets for the whole of the journey to Schippol (something we'd found painful trying to do online) at the ferry's service desk - their staff also helpfully printed out an itinerary and two sets of connections in case we missed the first. I'm glad I asked and that they were so helpful - buying tickets en route would probably have been more stressful.
Several hours later with the skies darkening we came into the harbour at Hook of Holland (Hoek van Holland) and went down to check up on him. He still seemed happy, had used his litter tray, eaten some food, and drunk some water. We let him have a walk around the kennel for a bit, then cleared away the litter, quilt, and food bowls (suitable bins are provided for all this), and put him back in his carrier. Then we carried him down a deck to the debarkation area and waited for the ship to dock. From here we carried him off the ship, through passport control (no need to show the pet passport here), and to the baggage collection area. Next time I'll take some euros so I can pick up a trolley at top of the ramp from the ship - it's a long walk (though with a series of travelators that Mr A dislikes about as much as escalators).
We had to wait a little while for our bags so I took Mr Anderson out on the leash for a walk around, and he investigated the Christmas tree. We then went out to catch the bus.
Hook of Holland to Schippol
A bus (a rail replacement service) to Schiedam
A mainline train to Rotterdam
An intercity train to Schippol airport
The bus to Schiedam (the 711) appears to be a replacement for a rail service that isn't currently running (I'm not entirely sure of the details). The same stop is used for the service in two directions. One to "Strand" which is the Dutch word for "Beach". Also the Swedish word as it happens, but the English speaking bus driver helpfully dissuaded us from boarding anyway. The one we wanted was for Schiedam Centrum from whence our train to Rotterdam would depart.
The buses didn't seem to be running to schedule, but they were fairly frequent so we only had to wait about quarter of an hour after just barely missing one after collecting our bags. We placed Mr Anderson on the floor, but this is one journey that he definitely disliked very greatly (Level 3, I am a sad cat and I want to be somewhere else, very loud). This journey lasted about 25 minutes, most of which we spent crouching on the floor trying to sooth Mr Anderson in his cage. No fun for any of us, but at least fairly short. Again, the swaying is what he dislikes - so once we were on the motorway he was less vocal, though clearly still not a happy kitty.
At Schiedam we strapped him back to the roller suitcase, wheeled him over to an escalator, and took him down into the station complex. From here we went through barriers to get up to the platform, and then realised that the lift we needed was outside the barriers. I decided it was easier to haul him up the stairs than go back to the lift. Halfway up the stairs several people advised us that there was a lift on the ground floor. Not helpful at that stage - though I suppose it wasn't obvious that pulling the bag up stairs was a lot easier than lowering it down them. Anyway, we got up to the platform, and hopped onto our train to Rotterdam. We kept Mr Anderson in his carrier for this bit as it was a single stop and a five minute journey. No complaints from him, and he seemed to be quite calm despite his earlier distress on the bus. As we kept saying to each other (and him) he's a brave little kitty.
Rotterdam station is slightly familiar territory for us as we were recently at the "Roffa Balboa Weekend" dance weekend there. The station is easy to navigate and there are lifts and escalators to all the platforms. Given Mr Anderson's dislike of escalators we took the lift (he doesn't mind these) once we found our train to Schippol, the intercity. The intercity has a large vestibule at the ends of the carriages, so we stayed there for our 20 minute journey to the airport. We kept Mr Anderson in his carrier on the floor of the train and he seemed quite comfortable for this part of the journey. Finally, two hours before boarding we arrived at Schippol. This meant that a lot of the stress for us with the schedule was gone as Norwegian require pets to be checked in an hour before departure if they're flying in the hold - which Mr Anderson does as sadly he's too large to be allowed in the cabin which we would have much preferred.
Schippol to Stockholm
Checkin and a short flight
Chilling out at Arlanda airport
A taxi home to Hässelby Strand
At the airport we first arranged things according to the instructions on Norwegian's website, cable-ties holding the door shut and so forth. We also took a tip from the flight into the UK by fastening a plastic dish to the inside of his cage and filling it with ice - so that he would have cold water for his journey (this worked well - I'm grateful to the bartender who provided me with ice "for my cat" with no questions asked).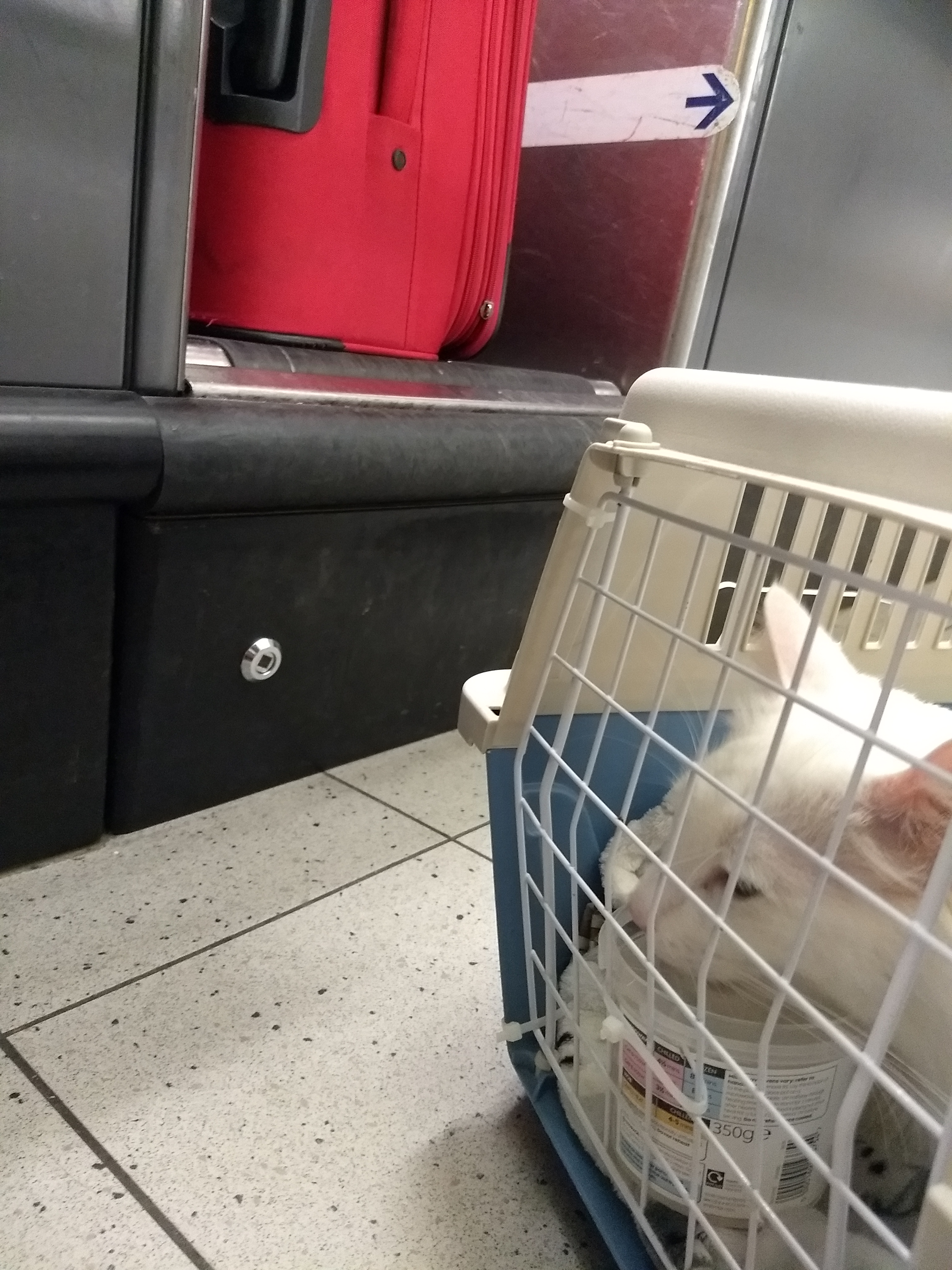 At checkin things went slightly wrong. Initially it looked smooth - they checked our bags (both a hair under the allowed 20Kgs) and issued our boarding passes. The stewardess at the checkin desk also made arrangements to have the hold warmed: slightly worrying as we presumed this sort of thing would happen automatically as a result of the booking we had made for the cat. We offered the pet passport, but it wasn't checked as far as I recall. The cat carrier was approved for the flight.
Next we were supposed to be taken to the security area by the stewardess and a security guy, but the security person didn't show up. Time ticked by and the prospect of a quick supper airside diminished to the prospect of a quick sandwich airside. More phone calls were made - there had been some kind of mixup - and the security guy appeared, but now it seemed that we had been too quick with the cable ties. They should have been attached after the security check (no mention of this on Norwegian's website) and our spares were in the checked luggage that had long since headed off to the aircraft. However, the security person eventually found some solution, took me (only one of the owners was permitted for this bit) and the stewardess to a back room, checked the carrier, gave me a chance to say good bye, and then the stewardess took him airside via a lift and I was escorted back to the main part of the airport by the security person.
With Mr Anderson in the hands of the airline we went through security, which is fairly swift at Schippol, and then went off in search of first a sandwich, and then our gate. As we were both rather tired we managed to make this include two trips through passport control (oops) but we still had a fair bit of time before departure. At the gate the Norwegian gate staff did their usual irritating trick of asking people to step forward to check bags "as we have a full flight" even though the flight was not even remotely full and there was plenty of empty space for bags when we did board.
While waiting to board we were able to see Mr Anderson arrive at the plane in the cabin of a baggage truck in his carrier. The carrier was brought out, placed on a baggage truck while paperwork was filled in, then the bag handlers carefully carried him over to the conveyer belt up to the plane. He was sent up this slowly, they paused at the top and he was lifted into the plane.
The flight was about ten minutes late (the incoming plane arrived late) which is par for the course with an economy flight at the end of the day, so boarding was accordingly late. I think we got on the plane at about 9:40pm and it had been a long day for us and the kitty already.
With everyone boarded, the plane pushed back. At this point, Hanna and I realised that we could hear Mr Anderson crying in the hold. Not a nice moment. This was his level 4 complaint: I am a very unhappy cat and I am on the wrong side of a door and I think I have been forgotten. Now, I will add that he's used this voice in a car before, and he's deaf, and the pushback was very like a car movement if you ignore the noises, so to him there was probably no difference. It's also a voice that he's used before now when Hanna has left the flat and he doesn't realise I'm still there (followed by some very cute mewing when he realises that I am) so it's not necessarily a sign of intense distress. But it was very unpleasant to hear when we could do nothing to comfort him. For cat lovers in the audience (is anyone else left?) I will cut to the chase: he was fine when we got into Arlanda. But we both felt extremely guilty and concerned for the rest of the flight - though of course we couldn't hear anything from the point pushback finished and the engines started up.
My guess would be that, as with trains and buses, he would be fine once the swaying and swerving stopped which was very quickly after takeoff. There were probably about 15 minutes of "car bad" unpleasantness for him at each end (we didn't hear him crying in the hold on arrival before or after the jets shut down). A bit worse perhaps as he's in the dark and there are no familiar people smells to reassure him.
Disembarking at Arlanda was smoother than usual for me. Normally I depart from London which is outside the Schengen Area so I have to go through passport control - whereas from Schippol there's no such tedious bureaucracy to tangle with.
Bags arrived after the usual 20 minute delay, and Mr Anderson arrived just after, in his carrier, and not looking particularly frazzled. The previous trip into Gatwick had left him very obviously unhappy on arrival, so this was a substantial relief. We took him out of the carrier, gave him a (not particularly wanted) cuddle, and then walked him around on a leash. He seemed perky and cautiously interested - which is his usual mode when being taken for a walk outside at home - and inspected everything and everyone we would allow him to.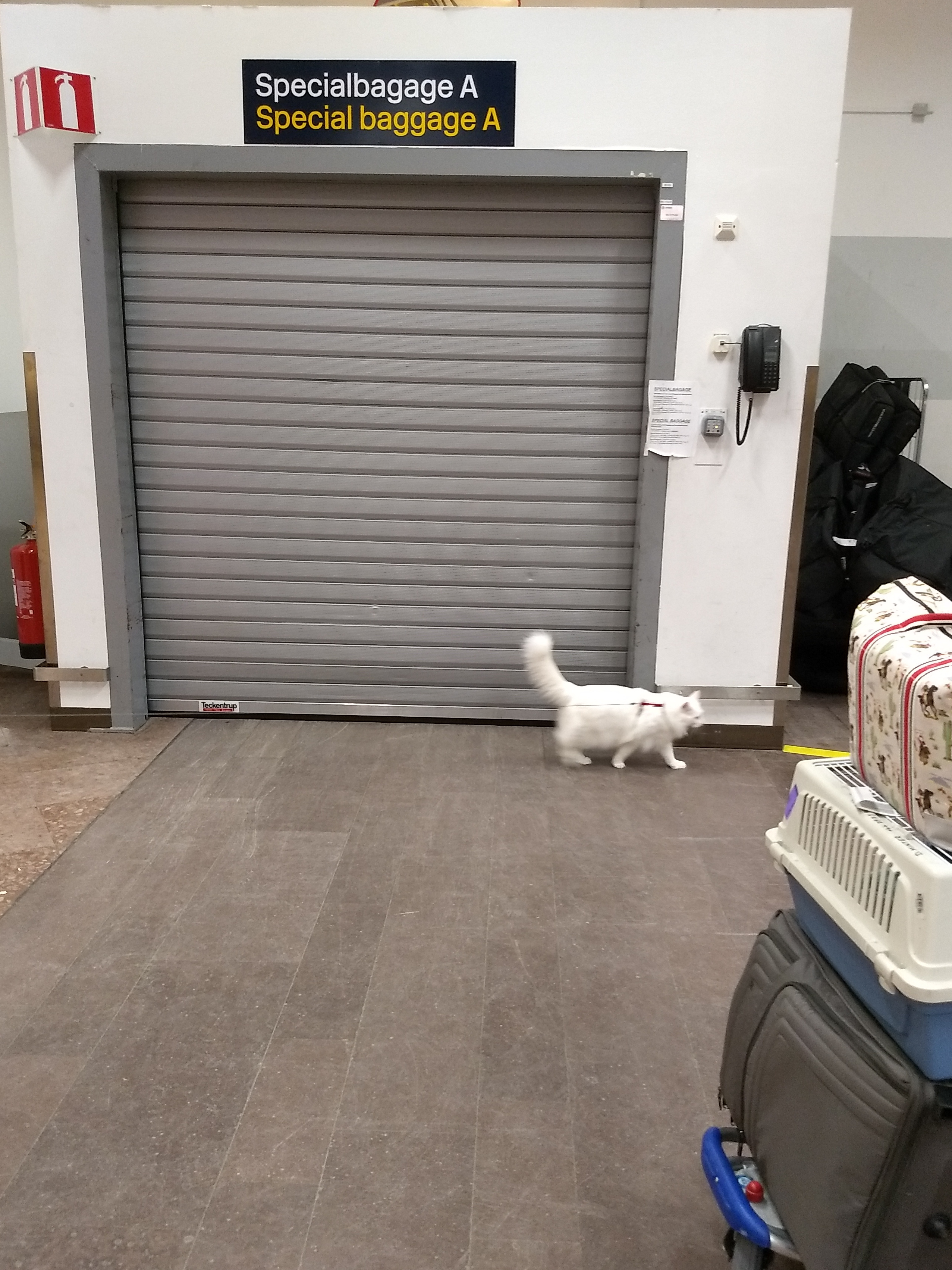 Rather than put him back in his carrier straight away we let him walk around for a bit and then put him on top of the trolley where he settled down quite calmly. I rather enjoyed pushing him out via the customs channel and past all the taxi drivers holding up signs. Most of them seemed amused to see someone who was so definitely not their client for the evening.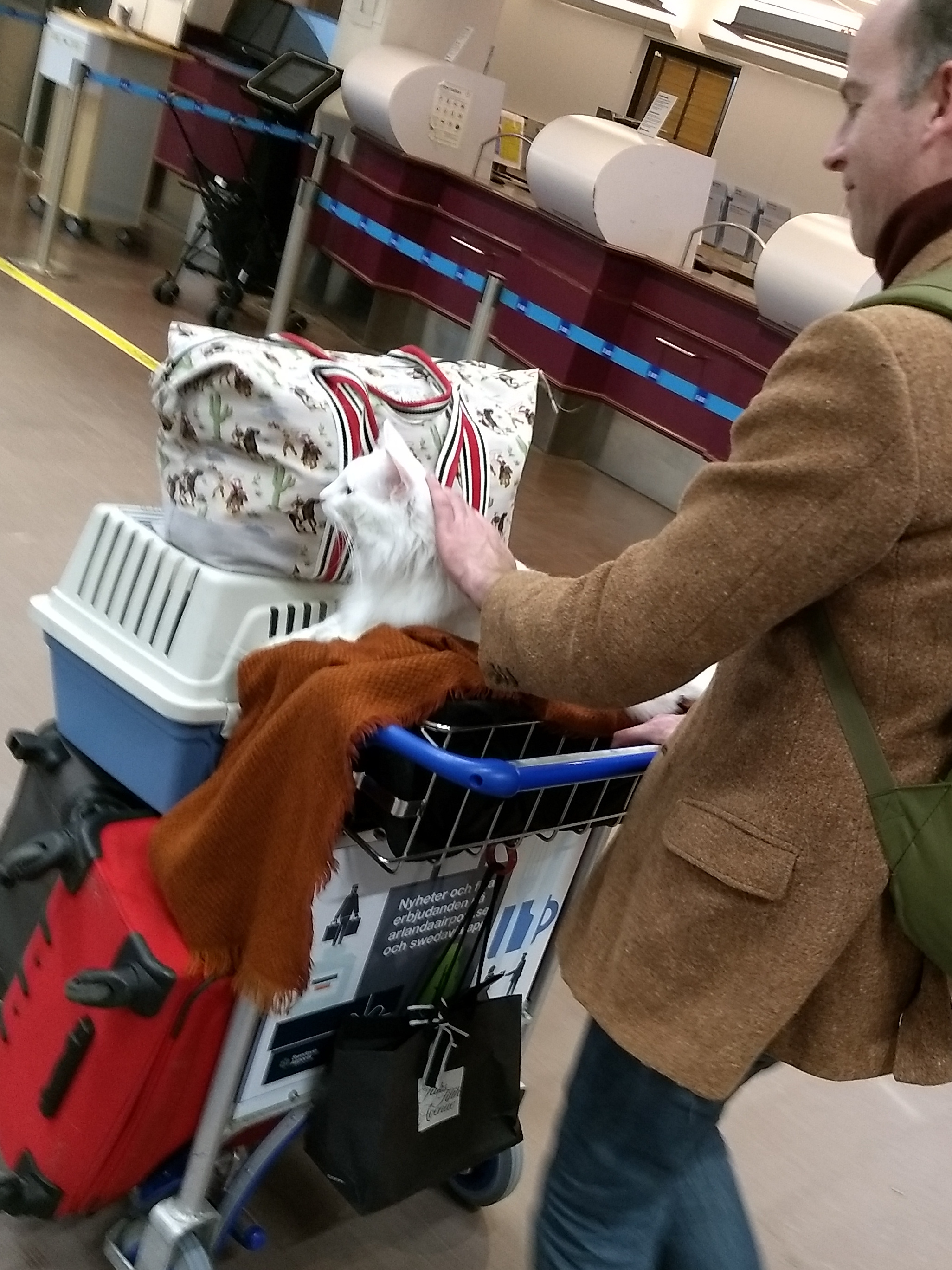 We took him over to the seven-eleven in the arrivals concourse, let him have another sniff around the area, make a few (startled) friends with people in the area, have his photo taken by the staff at the seven-eleven, and generally show off what a cool cat he is.
Finally, after about half an hour of cool-off time we put him back in his carrier, wheeled him and the luggage out to the taxi rank, explained to the driver that his passenger didn't like swerves and sways and would be noisy in proportion, and set off for our last leg home.
The taxi driver did a really good job, and Mr Anderson made well under his usual number of complaints for a car journey. A level 3 complaint or possibly a 2.5 rather than the expected 4. The journey from Arlanda to our home is about 45 minutes so it was a part of the journey that I had been dreading, so we're greatful to our chauffeur for the kindness. Finally, back at the flat, we let him out of the carrier and he explored - it was clear he knew this territory; there was no caution, just an air of checking all the things. The following morning he was full of purrs and affection.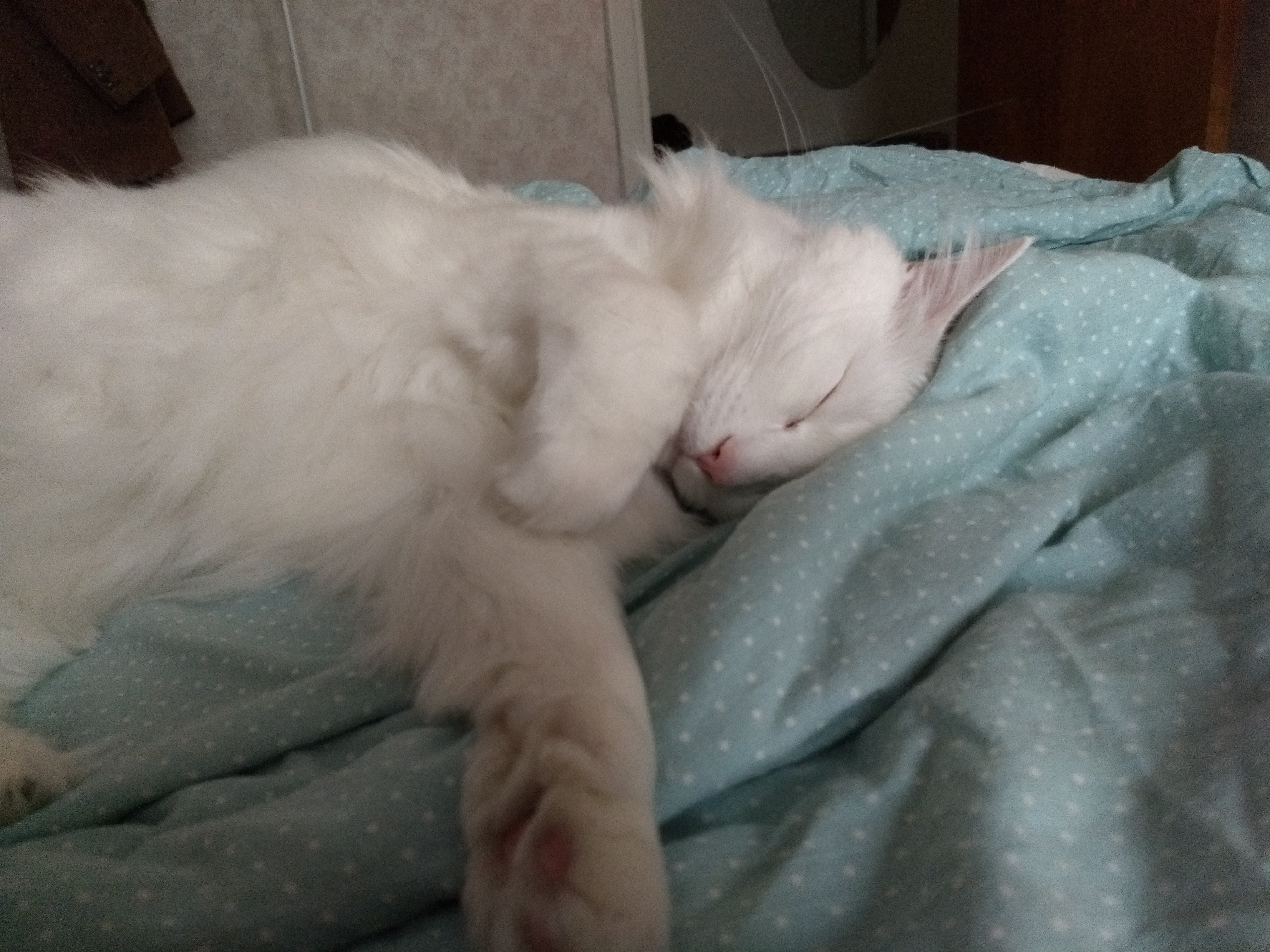 He was constipated for perhaps another day, and as I write he's sitting on the bookcase from which he can see both me and Hanna. He is looking extremely smug.
Conclusions
This was definitely a better trip for Mr A than his flight into the UK. The chillout opportunities between each leg of the journey seemed to help a lot - though the fact that he's such a bold cat in the first place made all of this a much easier prospect.
We wouldn't take him on a flight again. Even though intellectually I know it probably isn't much worse for him than a car, the fact that he's in the dark, unaccompanied, we have little control over what's done to him, and the guilt of hearing him screaming in the hold when we were in the cabin put us off far too much. If we ever have to take him long distance again we'll use trains. He seems to mildly dislike or slightly enjoy them (depending on the smoothness of journey), and even when he's sad - as in a car - it's much easier to deal with if you know you can stop for a bit and give him a break.
Finally he is easily the most sweet natured cat I've ever met and Hanna and I adore him.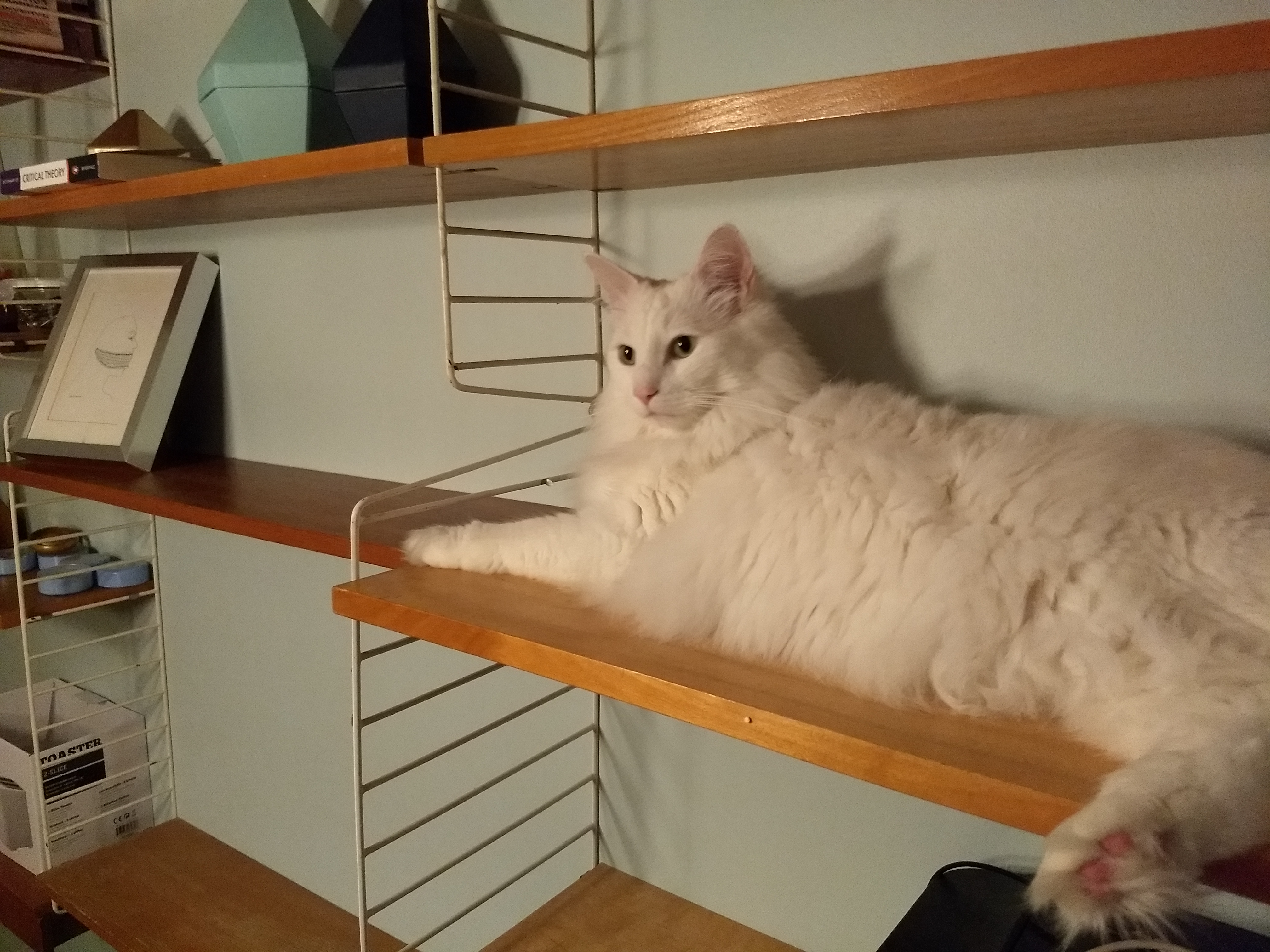 If you're planning a similar trip and have any questions, drop me a line at dave@paperstack.com.